Banding Island on Lake Temenggor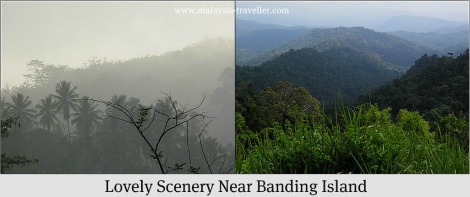 Banding Island is an ideal base for exploring Lake Temenggor and the Royal Belum Rainforest. It is definitely one of Malaysia's most beautiful areas and a place I would like to return to and spend more time.
Lake Temenggor is huge, over 70 kilometres in length, up to 5 km wide in places and as deep as 120 metres.
It is a man-made lake created in the late 1960s and early 1970s by constructing Temenggor Dam and flooding the valleys of the Upper Perak River and its tributaries. This accounts for its highly irregular shape. Banding Island would have been a hill-top before the valley was flooded.
The construction of the dam had two objectives - to generate hydro-electric power and to deprive the communist terrorists of one of their few remaining infiltration routes from their bases in southern Thailand at that time.
Temenggor Lake is surrounded by the Royal Belum Rainforest, a vast stretch of 130 million year old virgin rainforest, one of the last refuges in Peninsular Malaysia for wild animals such as elephants, tapirs, tigers and 10 species of hornbill.
The Belum Forest Reserve is also home to the famous Rafflesia, the world's largest (and smelliest) individual flower, and other rare plant species.
Although the forest was given the 'Royal' and protected status in 2003 I noticed a number of logging trucks on the roads in this area hauling giant, and presumably ancient, tree trunks. Let's hope the logging ban in the Reserve is being properly enforced.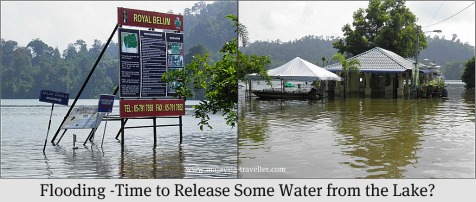 Banding Island itself is fairly small and I visited a small village with a jetty which was partially submerged due to flooding. I would have thought it is possible to open the sluice gates of the dam to prevent flooding but perhaps that would cause greater problems downstream.
A number of Orang Asli people were waiting patiently near the jetty, perhaps awaiting a boat to ferry them to their village.
Accommodation
There are two hotels in the area and I visited both of them.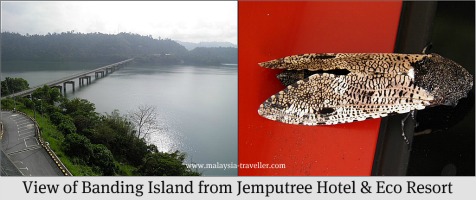 Firstly the 3 star Banding Lakeside Inn, formerly known as the Jemputree Hotel & Eco Resort.
This is located on the 'mainland' just before the bridge to Banding Island if you are coming from the direction of Gerik.
I had a cup of coffee in their restaurant which has a fine view of the lake. The friendly F&B Manager recommended a local village coffee (tasted fairly ordinary to me) before telling about the many eco-attractions in this area. He even pointed out some of many exotic moths, beetles and other bugs which were congregated on the outside wall of the hotel.
Then I headed over to the island itself where the Belum Rainforest Resort is located.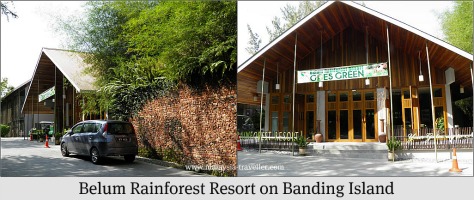 Following a recent renovation this is now a 4 or 5 star resort on completion and looks quite smart. I would like to take the family there for a couple of nights if the room rates are reasonable.
The hotel can arrange activities such as their 6-7 hour Discover Belum Rainforest tour which includes:
- search for Rafflesia spot
- visit Orang Asli village at Kejar Hill
- explore the salt lick at Jenut Papan (a salt lick is a tasty deposit of mineral salts which acts as a kind of vitamin pill for animals.)
- picnic lunch at Sungai Ruok
NB An entry permit is needed for the Royal Belum Rainforest and applications must be made at least 14 days in advance.
Other activities include fishing, night trek, forest trail, round island cruise, Rafflesia Walk and more.
The Banding Lakeside Inn can arrange similar trips.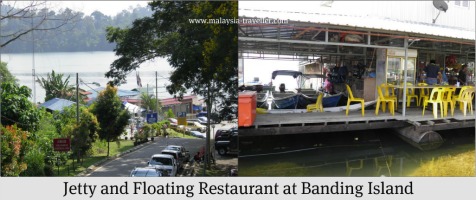 How to Get To Banding Island
The location is marked on the interactive map on the Top Perak Attractions page. Use the zoom and left/right buttons to get a closer look.
You cannot miss the island. Take the spectacular East-West Highway 4 from Gerik towards Kelantan. The island is clearly signposted and when you see a long bridge over a lake (photo above) you know you are there.
---
Share this page: