Ampang Forest Reserve
Update: Ampang Forest Reserve was closed to the public on 5 January 2016 and will remain shut for at least 3 years during construction work of the East Klang Valley Expressway. When (if) it reopens it will have an expressway running through it!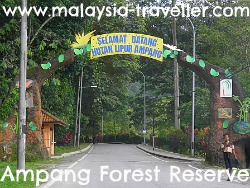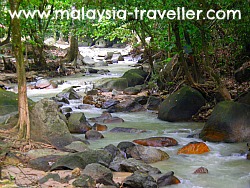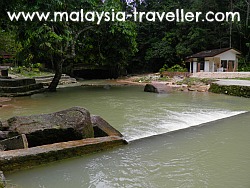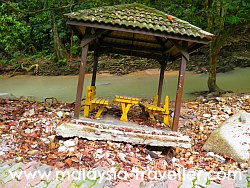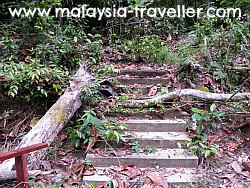 Ampang Forest Reserve (known in Bahasa as Hutan Lipur Ampang orTaman Rimba Ampang) is a small park on the eastern fringes of Kuala Lumpur close to Bukit Belacan.
When I visited recently (June 2012), there was a sign at the entrance saying that the park was temporarily closed for maintenance work. Since there was nobody on duty at the entrance gate, and the barrier was left open, and other people were entering, we went in to have a look.
The road inside the park continues for 1.5km before reaching a water pumping station, which is a restricted area.
The road and footpaths follow the course of a river, with heavily forested hills rising on either side.
It's a peaceful place with only the sounds of running water, insects and birds to disturb the silence.
A notice at the entrance claims that the park is frequented by rare birds and recent sightings include Blue-banded Kingfishers, Rufous Chested Flycatchers and Black Magpies.
There were more monkeys around than humans. Despite signs requesting the public not to feed the monkeys, a hot dog vendor was throwing his stale buns to the hungry long-tailed macaques.
Much of the hard landscaping along the river bank such as footpaths and gazebos had been seriously damaged by storm damage. This area suffered ravaging floods in March 2012 and the force of the water must have been frightening judging by the damage. This is why the park was closed for repairs.
I could not see much reconstruction work going on so I guess it will remain closed for some time yet.
The river has been dammed in places to create shallow pools for wading. The water looked fairly clean but there were the usual signs warning visitors about the dangers of water borne diseases.
I am sure many people do swim here but I wouldn't risk it myself.
I thought there might be some hiking trails through the jungle on either side of the river but apart from one set of overgrown steps I could not find any clear trails.
I hope this park will be repaired soon as it is in a convenient location close to Kuala Lumpur where green spaces and fresh air are becoming scarcer.
Admission Charges and Opening Hours
Normally there is an entrance charge of RM1 per adult and RM 0.50 per child.
There is a free car park at the entrance.
Open from 8am - 5pm.
How to Get to Ampang Forest Reserve
It is easy to find. From Ampang Park just head east on Jalan Ampang and keep going straight on this road as far as you can. Eventually as you approach the hills, the road curves left and you will see signposts for the park.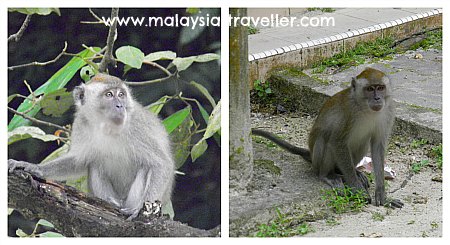 ---
Share this page: