Alor Setar Heritage Trail

Alor Setar Heritage Trail
With this self-guided Alor Setar Heritage Trail you can visit the best sights that Kedah's state capital has to offer.
Alor Setar is not a prime tourist destination and most visitors pass through quickly on the way to somewhere else.
But for those willing to slow down, the city does have some interesting architectural landmarks, mostly concentrated around the Dataran Alor Setar in the heart of the city and which can conveniently be visited on foot in an hour or two.
The suggested walking trail on the map below is only 2.4 km long, excluding the State Museum to which you might wish to drive unless you are feeling energetic for the extra 1.6km walk.
Here is a short video from the Malaysia in a Minute series which covers many of the places listed here: 
Map of Alor Setar Heritage Trail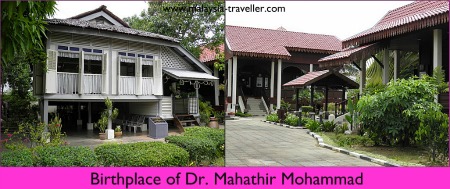 A good place to start your Alor Setar Heritage Trail is at the Birthplace of Dato' Seri Dr. Mahathir Bin Mohammad who was Malaysia's longest serving Prime Minister from 1981 - 2003. As Prime Minister he was sometimes controversial (in England for example he is remembered for his 'Buy British Last' policy) but there is no doubt he was an energetic and visionary leader and Malaysia's economic standing in the world improved greatly during his tenure.
It is interesting to see the humble home where he was brought up. The newer galleries next to his old home contain personal belongings and memorabilia from Dr. Mahathir's schooldays, medical career, married life and his time in politics.
Admission to Dr. Mahathir's Birthplace is FREE. Open Tuesday - Sunday from 10am - 5pm. Friday 10am - Noon / 3 - 5pm. Closed on Mondays except during public and school holidays.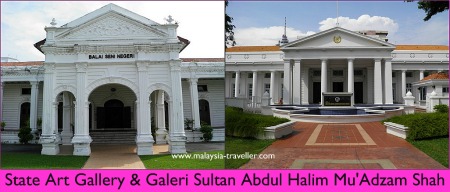 Next stop, after crossing the river you will arrive at the Dataran Alor Setar area where most of the sights are located, beginning with the Balai Seni Negeri (State Art Gallery).
This building used to be a courthouse, built in 1893 and is now showing its age and in need of a new coat of paint with weeds growing out of nooks and crannies on its roofline. Inside is a modest collection of contemporary Malaysian art.
Admission to the State Art Gallery is FREE. Open Daily from 10am - 6pm. Friday 9am - Noon / 3 - 6pm.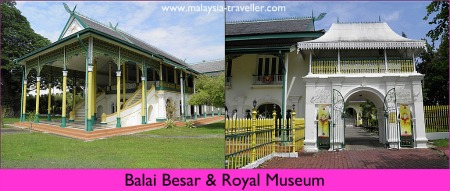 Nearby is the Balai Besar (Great Hall or Main Hall). This unique hall was built in 1898 to replace an earlier one which had been destroyed by Bugis and Siamese invaders. Its design contains elements of Thai and Malay architecture.
It forms part of a larger palace complex (Istana Kota Star). The palace is behind the Balai Besar and is now a museum, Muzium Diraja (Royal Museum).
The palace was built in 1735 during the reign of Sultan Muhammad Jiwa. During the Second World War the Japanese army occupied the palace. Later the palace was abandoned for a number of years before it was converted to a museum. It contains royal regalia and mock-ups of a royal bedroom and reception room.
Admission to the Royal Museum is FREE. Open Daily from 10am - 5pm. Friday 9am - 12:30pm/ 2:30 - 5pm. Closed during HariRaya.
On the opposite side of the road is the Masjid Zahir (Zahir Mosque), a beautiful Moorish style mosque officially opened a hundred years ago (in 1912). It has five distinctive black coloured domes, said to symbolize the five pillars of Islam, and a mini-minaret which is not as tall as the main dome.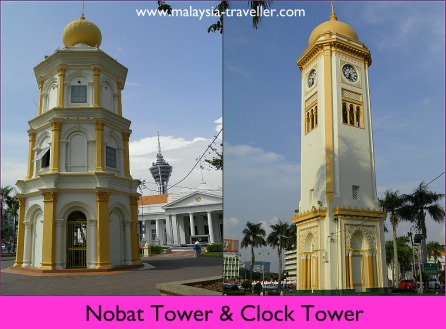 Next on our Alor Setar Heritage Trail are two towers.
The Clock Tower was built at the same time as the nearby mosque (1912) and would have assisted the muezzin to check the timings of the call to prayer.
The Nobat Tower (Hall of Drums) housed the royal orchestra, comprising drums, gongs and traditional woodwind instruments which would be played on ceremonial occasions. The 18m high three storey tower dates from 1906.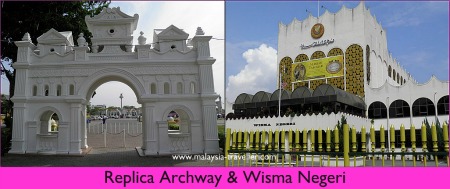 Behind the Nobat Tower is an elegant whitewashed gate which is a replica of the archway situated in front of Kota Tengah Palace. The original archway was demolished in 1973 to make way for the Wisma Negeri building. Perhaps one day Wisma Negeri will be seen and valued as a classic piece of 1970s architecture.
The archway is in front of the Galeri Sultan Abdul Halim Mu'Adzam Shah which is housed in another former court building (High Court and Sessions Court) dating from 1922. It was converted to a museum in 2007 and opened to the public in 2009. It contains personal collections of gifts, memorabilia, costumes and other belongings of the current Sultan of Kedah.
Admission to the Galeri Sultan Abdul Halim is FREE. Open Daily from 10am - 6pm. Friday 9am - Noon / 3 - 6pm.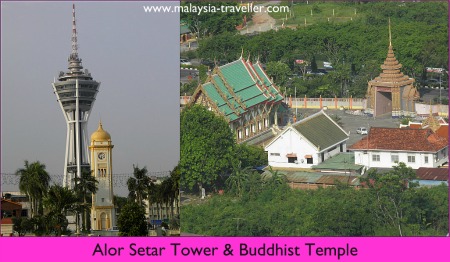 Five minutes walk away is the Menara Alor Setar (Alor Setar Tower). This modern telecommunications tower has a total height of 165.5m (543ft). It has a banquet deck at 100m, a revolving restaurant at 94m and an observation deck at 88m.
From here you can obtain birds-eye views of Alor Setar and the surrounding countryside. Places of interest which are easily visible include Istana Kuning, the semi-derelict Istana Che Sepachendera (hopefully to be restored), Wat Nikrodharam (Thai Buddhist Temple) and the impressive looking Al Bukhary Complex.
This is the only attraction on the Alor Setar Heritage Trail that you have to pay for but it is cheap compared to the KL Tower. Adults pay RM6 for the Observation Deck and children (ages 6 - 12) are charged RM3. (Foreigners pay more). The tower is open from 9am to 10pm daily.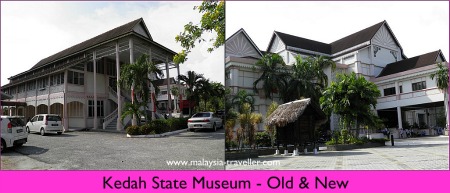 The final stop on our Alor Setar Heritage Trail is the Kedah State Museum (Muzium Negeri Kedah), another kilometer or so from the Alor Setar Tower. The old wing was built in 1936 and is in a style similar to the Balai Besar. It is now used as an office and all the exhibits have been transferred to the spacious new museum building next door which opened in 1997. There are ten permanent galleries focusing on culture, history, natural habitats, statesmen, transportation, weapons, manuscripts, textiles, handicrafts, language and literature.
Admission to the State Museum is FREE. Open Daily from 9am - 5pm. Friday 9am - 12:30pm/ 2:30 - 5pm. Closed during HariRaya.
This ends my Alor Setar Heritage Trail. If you still have time and energy there is another museum about 1km further north. It is the Tunku Abdul Rahman Memorial and the nearby traditional Malay houses (Rumah Tok Su and Rumah Sri Banai) but I have not visited them yet.

To see other top attractions in Kedah, click here.
Kedah Travel Itinerary
Now you can plan your trip and travel in Kedah with your Garmin navigation device without worrying about out-of-date guide books and maps.
Malaysia Traveller has collaborated with Garmin, the leading satellite navigation products company, to create travel itineraries for Malaysia for use on your Garmin portable street navigation device.
Click on the image below for details.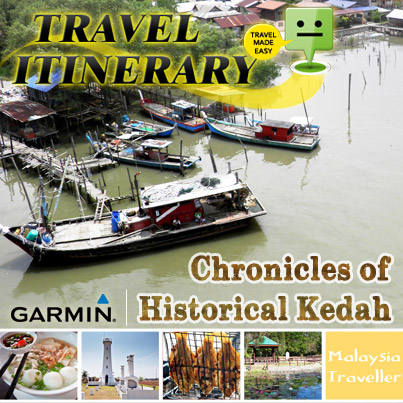 ---
---
Alor Setar Heritage Trail
Share this page: