Vehicle Registration Plates

Malaysian Vehicle Registration Plates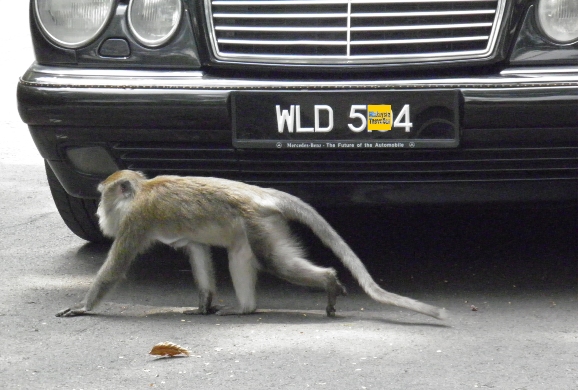 Want to know where a vehicle was registered? Here is a quick guide to Malaysian Vehicle Registration Plates.
Private and commercial motor vehicles in Malaysia mostly have number plates which have a format like this:
WTB 1956 

Where the first letter stands for the State or territory (W in this case for Kuala Lumpur)
The next two letters (TB in this case) are issued in sequence but excluding I, O and Z.
The numbers are issued in sequence although car owners can, for a fee, request particular numbers (such as lucky numbers, memorable numbers or vanity numbers) if these have not already been issued.
The Peninsular Malaysia State or territory prefixes are as follows:

A   Perak
B   Selangor
C   Pahang
D   Kelantan
F   Putrajaya
J   Johor
K   Kedah
M   Melaka
N   Negeri Sembilan
P   Penang
R  Perlis
T   Terengganu
V   Kuala Lumpur 
W   Kuala Lumpur 
There are some exceptions to the normal format. When Kuala Lumpur exhausted the W series of license plates in 2013 it was decided to add an additional alphabetical suffix like this 
WTB 1956 A

But as this format was not seen as popular a new V prefix series was begun for KL in 2016.
Putrajaya

When Putrajaya was founded in 1995 the first 9,999 license plates issued bore the name of the territory like this:

Putrajaya 1956
Now Putrajaya license plates begin with the letter F (for Federal).
Sarawak Vehicle Registration Plates
QAA 1956
The numbering system in Sarawak is slightly different with all license plates beginning with the letter Q followed by a letter denoting the division (district) of registration as follows:
QK      Kuching
QA      Kuching
QB      Sri Aman and Betong
QC      Samarahan and Serian
QL       Limbang
QM     Miri
QP     Kapit
QR     Sarikei
QS     Sibu and Mukah
QT    Bintulu
Sabah Vehicle Registration Plates
SAA 1956
Similarly, Sabah number plates being with the letter S followed by a letter denoting the division of registration as follows:
SA      West Coast
SY      West Coast
SB      Beaufort
SD     Lahad Datu
SG    Sabah Government
SK    Kudat
SL     Labuan (now replaced by L)
SS     Sandakan
SM  Sandakan
ST     Tawau
SW  Tawau
SU  Keningau
Taxis in Malaysia usually have license plates beginning with the letter H followed by another letter denoting the State of registration. Airport limousine taxis at KLIA bear the prefix LIMO.
Driving around Malaysia you will see various commemorative license plates with prefixes such as XXVIASEAN, which was issued to mark the 26th ASEAN Summit which was held in Malaysia in 2015.

Vehicle Number Plate Auctions
Like many countries, prestigious or personalised number plates in Malaysia are highly sought after. The number plate WWW1 was sold at auction for RM520,000 in May 2012. 
You can find the Traffic Department's official auction bidding site here.
---
Vehicle Registration Plates
Share this page: