Singapore Independent Travel Strategy

Singapore independent travel strategy, 5 must-see popular attractions recommended
Singapore is an island nation and a city-state with a rich culture. The result of the collision and coexistence of diverse ethnic groups is not only reflected in the food, but also in the alleys of the city. Chinatown, Little India, and Kampong Glam are cultural districts, and the Marina Bay buildings have become world-famous landmarks. The world-famous Merlion, the lotus-shaped Art Science Museum, and the gorgeous Sands Hotel, where should you start your first visit to Singapore? What other must-see attractions? Especially recommended tourist attractions in Singapore that must be visited! And attach the basic information of the detailed tickets for each attraction. For travel visa information visit Visaexpress.com.
1. Merlion Park
The Merlion is located in the Merlion Park by the river and is the most famous landmark in Singapore. Here, you can take some interactive photos with the Merlion, or take a walking tour of the landmark buildings around the park, and the restaurants and bars on the seaside boardwalk are also good places to relax.

➨ Details

▶︎ Address: 1 Fullerton Road, Marina Bay, Singapore (Coordinates: 1.286773, 103.854536)
▶︎ Transportation: Take the subway to Raffles Place Station EW 14, Exit H. (Singapore MRT SMRT route)
▶︎ Tel: +65 6736 6622
2. Singapore Flyer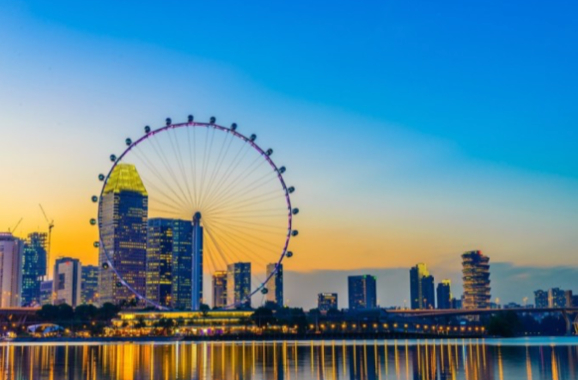 The Singapore Ferris Wheel is 42 stories high and is the largest Ferris wheel in the world. It takes about half an hour to go around in a cockpit that can accommodate 28 people. During the process, you can slowly enjoy the urban landscapes such as Merlion Park and Singapore River.

➨ Details

▶︎ Address: 30 Raffles Ave, Singapore 039803 (Coordinates: 1.289296, 103.863138)
▶︎ Transportation: Take the subway to Promenade Station CC4, Exit A.
▶︎ Tel: +65 6333 3311
▶︎ Business hours: 8:30~22:30
▶︎ Ticket: Adult 29.5 SGD / Child (3~12 years old) 20.65 SGD
3. Sands SkyPark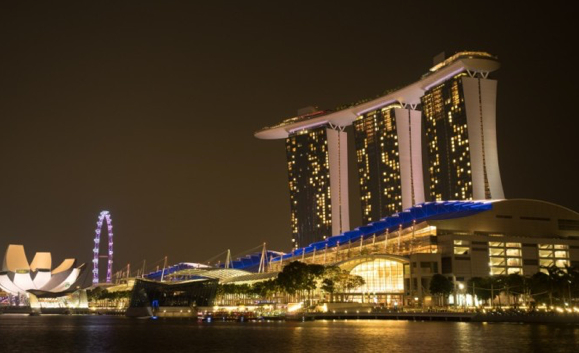 The Sands Hotel is known for its rooftop infinity pool, but you must be a guest of the hotel in order to swim here. If there is no occupancy plan, the sky garden viewing platform on the other half of the top floor is a good alternative, which allows you to be in the heart of Singapore city. The night views are especially fascinating.

➨ Details

▶︎ Address: 10 Bayfront Ave, Singapore 018956 (Coordinates: 1.284125, 103.859590)
▶︎ Transportation: Take the subway CE branch line or downtown line to Bayfront Station CE1.
▶︎ Tel: +65 6688 8868
▶︎ Business hours: 10:30~23:00 (Friday, Saturday) 10:30~23:30
▶︎ Tickets: Adult 23 SGD / Child (2~12 years old) 17 SGD / Senior (65 years old and above) 20 SGD
4. Gardens by the Bay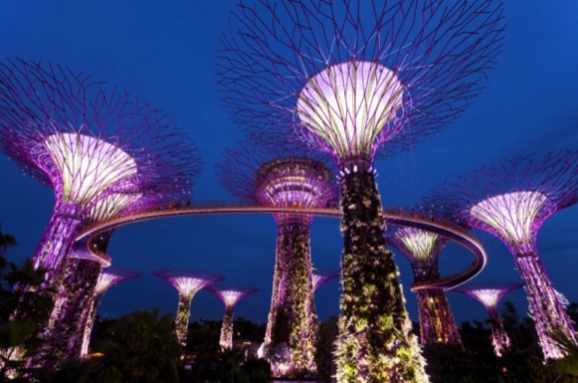 Inaugurated in 2012, Marina Park is a park created on reclaimed land, promising to implement Singapore's vision of a "city in a garden". When you come here, you will definitely be attracted by multiple Supertrees, which are actually 16-story vertical gardens! In addition to watching the super number of light shows at night, enjoying the garden scenery on the skywalk is also an experience not to be missed.

➨ Details

▶︎ Address: 18 Marina Gardens Dr, Singapore 018953 (Coordinates: 1.281718, 103.863645)
▶︎ Transportation: Take the subway CE branch line or downtown line to Bayfront Station CE1.
▶︎ Tel: +65 6420 6848
▶︎ Business hours: 5:00~2:00
▶︎ Ticket: Adult 28 SGD / Child (under 12 years old) 15 SGD
5. Chinatown
In Singapore's Chinatown there are many century-old shops and specialty vendors, such as "Lin Zhiyuan" jerky, and "Hu Zhenlong" who sells special lobster jerky and ostrich jerky. In addition to the Chinese culture, there are many mosques and Indian temples in the blocks, which fully demonstrate the characteristics of Singapore - the coexistence of multiculturalism, races and religions.
➨ Details

▶︎ Recommended food: Maxwell Food Centre (Tiantian Hainanese Chicken Rice), Jinhua Fish Noodles, Lin Zhiyuan Jerky, Hu Zhenlong Jerky
▶︎ Recommended attractions: Temple of the Tooth Relic, Longhua Courtyard, Chinatown Heritage Center, Sri Mariam Temple, Jamie Mosque, Nagdeka Hall
▶︎ Address: Outram, Outram District, Singapore, the main streets include Pagoda Street, Smith Street, Ann Siang Road, Terengganu Street (coordinates: 1.282332, 103.844212)
▶︎ Transportation: Take the subway to Chinatown Station exit to Pagoda Street
While there are many attractions to see in Singapore, this five listed here are some of the most popular and should not be missed when you travel in this place. If you have time, explore beyond these and find your own favourite spots in this diverse city-state. As always, happy travels!
---
Singapore Independent Travel Strategy
Share this page: