PICC
Putrajaya International Convention Centre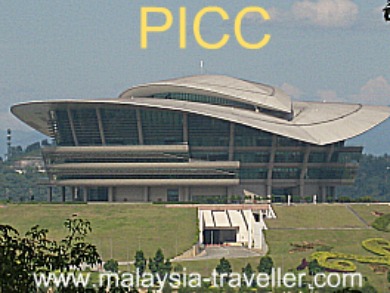 The official website of PICC (Putrajaya International Convention Centre) uses rather flowery language to describe itself:
"...affectionately known as a rising majestically facade on the land of an effervescent urban world of modernization..."
I think it is more likely that people think of the Convention Centre as 'that funny shaped building you pass when you are on the train from the airport'.
Actually I like the shape of the building which is said to be inspired by a Malay royal belt buckle.
The building was completed in 2003. It is designed to be a world-class convention centre with a built-up area of 1.3million square feet ranged over 9 levels.
Its facilities include a number of exhibition halls, meeting rooms, conference rooms, lounges, banqueting halls, galleries, two restaurants, shopping outlets and basement car parking for 1200 cars.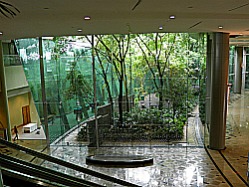 The circular building incorporates an internal garden behind glass walls so that you can enjoy the beauty of the garden but not have to suffer from the heat.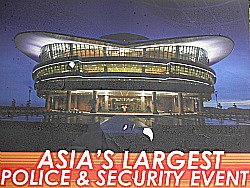 When I visited they were preparing for a Police and Security Equipment show - handy if you want to buy a water cannon but not much relevance to me.
I get the impression that the conference facilities are not utilised as heavily as they could be. In the competitive world of events management perhaps rival convention centres such as KLCC and Putra World Trade Centre are seen as more convenient locations.
There was talk in 2010 of the Putrajaya International Convention Centre being converted into a Parliament building to replace Parliament House in KL but that topic seems to have gone quiet so perhaps nothing will come of it.
Tourist buses like to visit the Convention Centre even if no event is being staged because the hill it stands on provides a good photo vantage point overlooking Putrajaya. About 5km away you can see Perdana Putra at the other end of the long, straight boulevard which runs down the middle of Putrajaya.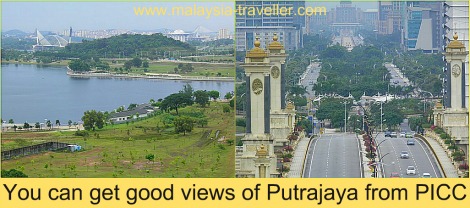 How to Get To PICC
A location map can be found on this map:


For information on forthcoming events, bookings and available facilities please see Putrajaya International Convention Centre's official website.
---
Share this page: