Maeda-shima - Labuan
Outside the Labuan Museum is a memorial plaque commemorating General Maeda, the wartime commander-in-chief of the Japanese forces occupying northern Borneo who died in an air crash on 5 September 1942 while en route to Labuan. Following his death Labuan was renamed Maeda-shima (Maeda Island) until it was liberated by the Allies following Japan's defeat.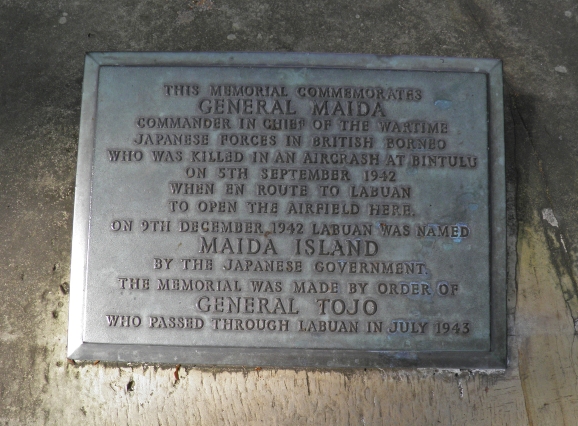 Plaque outside the Labuan Museum.
I thought I would try and find out more about this man Maeda. 

Toshinari Maeda - Noble Birth to Watery Grave
Maeda Toshinari was born into a noble family in Kōzuke province, in modern day Gunma Prefecture in 1885. Descended from samurai stock, in 1900 he assumed the high ranking title of Kōshaku (Marquess) under the Japanese peerage system that ran from 1884-1947.
As a member of the aristocracy, he took a seat in the House of Peers, the upper house of the Imperial Diet in 1910, while pursuing a military education. He graduated with some distinction from the Army War College in 1911 and went on to further training in Germany.
His career highlights included a stint in Great Britain as military attaché in 1930, a regimental commander posting with the Imperial Guard, becoming a member of the Imperial Japanese Army General Staff, and a superintendent of the Army War College. He retired in January 1939 at the rank of lieutenant general.

Marquis Toshinari Maeda,commander of the Japanese forces in northern Borneo, pictured in 1941
Then the Pacific War broke out and he was recalled and assigned command of the Borneo theatre of operations on 6 April 1942. By then the fighting was already over as Sarawak, Brunei, Labuan and North Borneo had fallen to the Japanese in January 1942.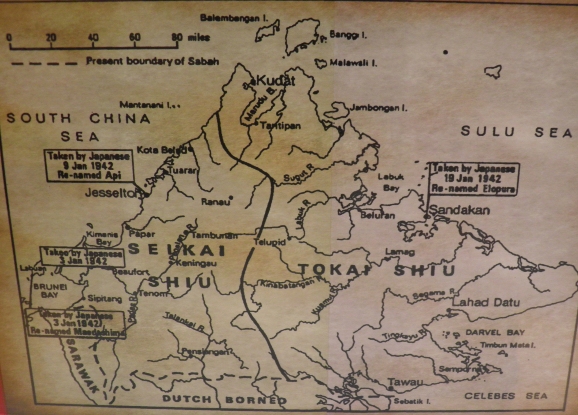 Map at Labuan Museum showing North Borneo under Japanese Occupation with Labuan renamed Maedashima, Jesselton (KK) renamed Api and Sandakan renamed Elopura.
His responsibilities would have included ruthlessly maintaining law and order, suppressing any resistance, raising taxes and establishing a military government. 

Japanese troops entering Labuan town.
Any of the local population who might have been hopeful that the Japanese rulers would turn out to be an improvement on the British were quickly disillusioned as high taxes, brutal punishments, military brothels, shortages of food and economic hardship became the norm.

The 27th Sultan of Brunei, His Majesty Sultan Ahmad Tajuddin, and local Brunei government officials with the occupying Japanese military personnel during World War 2. Seated to the right of the Sultan is Lieutenant General Marquess Toshinari Maeda.
Maeda was initially based at Miri, but perhaps finding it lacking in creature comforts, he relocated to Kuching where he could at least occupy the Astana, a standard of accommodation more in keeping with what he was used to.
Sadly for him he did not have long to enjoy his new responsibilities. On 5 September 1942, just five months after arriving in Borneo, he was killed in an air crash. After witnessing the execution of five men at Padungan, Kuching for allegedly stealing petrol, he boarded a plane with two other officers, Major Hataichi Usui and Pilot-Captain Katsutaro Ano, bound for Labuan to officially open a new airfield, built with forced labour, to be named after him. They never arrived and it was not until a month later that the wreck of his plane was found off the coast of Tanjung Batu at Bintulu. His body was never recovered.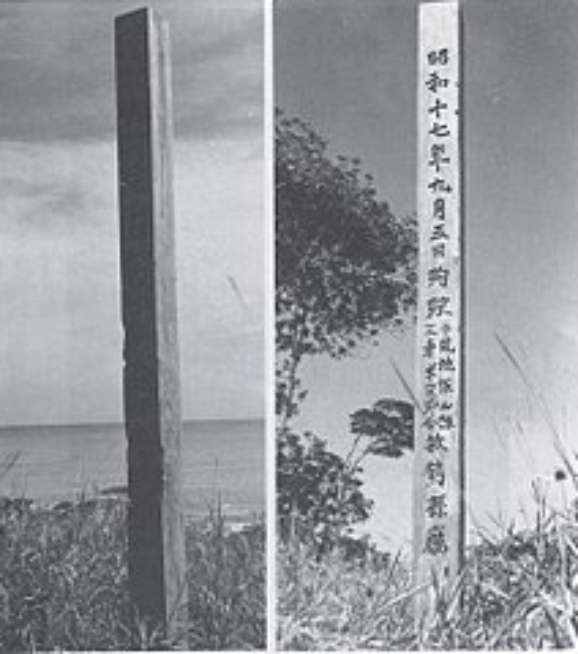 This wooden post was erected in 1942 at Tanjung Batu beach close to crash site in honour of Maeda. It was later taken back to Japan by the Maeda family after the Japanese occupation ended.
The Japanese Government posthumously promoted Maeda the the rank of full General and renamed Labuan as Maeda Island (Maeda-shima) to honour his memory.

What Caused the Plane Crash?
The cause of the plane crash remains unknown, however, this rather tongue-in-cheek article in the June 1, 1948 edition of The Sarawak Gazette suggested an old superstition could have been to blame:
A Tall Story
'As a parting word I will tell you something extraordinary. The main entrance of the Astana is the imposing and rather ancient tower overlooking the chief door to the palace.
Now there is a Brooke tradition that the exterior of this tower must not be whitewashed or renovated. If this should occur, so runs the legend, some disaster will take place. The tower had therefore became covered by an ivy-like creeper, and parts of the original building were crumbling in venerable decay.

The Japanese, vainglorious and victorious, saw fit to put this ruin into apple-pie order. The creeper was torn down, masons, plasterers and white washers got busy.
Shortly afterwards Field Marshal Prince Maeda, cousin of the Emperor Sun god and Generalissimo, fell miserably to earth in a crashed plane somewhere round about Miri. The Japanese suspected sabotage or suicide; the Sarawak people attributed it to the old tower.'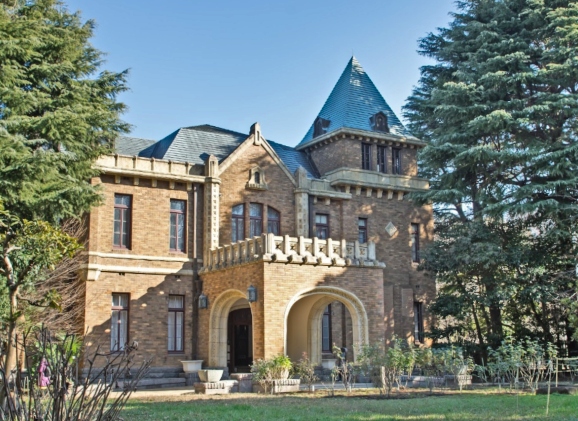 Maeda may have been largely forgotten in Sarawak and Sabah but his legacy in Japan is more concrete. Maeda built this western style mansion as his residence in Komaba Park, Meguro, Tokyo in 1929. Today it is part of The Museum of Modern Japanese Literature.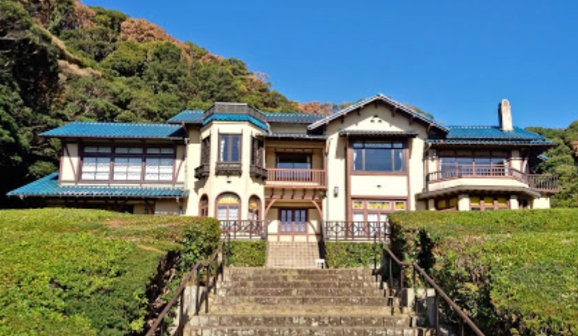 Likewise, his former summer house in Kamakura still survives and today serves as the Kamakura Museum of Literature.

---
Share this page: