Guinness In Malaysia

Did You Know?
Here is some trivia about Guinness In Malaysia.
Guinness is a popular dark coloured beer with a creamy head. The brand was originated by Arthur Guinness in Dublin in 1759 and is now brewed in over 50 countries, including Malaysia.
Guinness is now part of Diageo, the British headquartered global drinks giant but is brewed in Malaysia under licence by Heineken Malaysia.
It has been brewed in Malaysia since 1965. Prior to that it was shipped in bulk from  Ireland and bottled locally. Guinness was first imported into Malaysia in 1893.
This old advert was spotted in a kedai in Bentong. It was obviously aimed at the Tamil consumer.
The popular type of Guinness brewed here is Foreign Extra Stout (FES). FES can trace its origins back to 1801 when a brew with more hops was created which could survive the long sea journey to thirsty consumers in tropical countries.
The bulldog image on our FES bottles is unique to Malaysia.
Guinness used to be contain a substance called isinglass, made from fish bladders, as part of its filtration process. This process has been stopped and Guinness is now suitable for vegans and vegetarians. However, it is not of course halal. 
Guinness is not really black but a very dark ruby red. The flavour of the Malaysian brewed Foreign Extra Stout is bitter sweet, roasted malt with a hint of chocolate. It is more  more fizzy and less smooth than the draught variety, which is also brewed locally.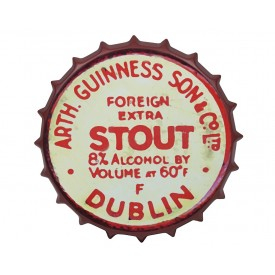 The alcohol content of FES in Malaysia has been reduced over the years in response to changes in alcohol duty from 8% (alcohol by volume) to 6.8% and now, since 2016, 5.5%.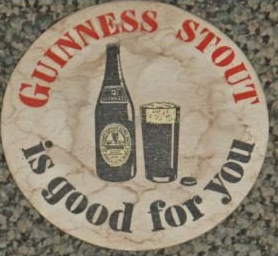 From the 1920s onwards, advertisement used to claim that 'Guinness is Good For You'. They no longer make that claim though some researchers say Guinness can be beneficial to the heart, reducing the risk of heart attacks and blood clots.
The caption on this 1960s advertisement can be translated as: 
A glass of Guinness Stout whets the appetite. A glass of Guinness Stout restores energy. For every glass of Guinness Stout is healthy. It provides strength when your body feels tired and lethargic. This is the drink that gives extra health to every meal. Yes, after work, whenever you're exhausted or sometimes lack appetite, nothing is better than a glass of Guinness Stout. Guinness Stout - Good For Us.
This old Malaysian TV advert went so far as to claim that 'Doctors agree that Guinness is good for inducing healthy sleep, as a tonic after illness, and during pregnancy'. 
Guinness is considered by some to be an aphrodisiac. This 1970s Malaysian TV commercial hinted as much:  'For extra energy, vitality and strength drink bulldog bottled Guinness every day.' 
In Nigeria, a huge market for Guinness, it is known as Black Power or Black Viagra.
Newcomers to Malaysia might be warned to avoid eating durian while drinking Guinness (or any alcohol) as this pairing could be dangerous. This may not be proven but since they are not a good taste combination it is probably best  avoided.
Some Malaysians use Guinness to marinate meat and as a cooking ingredient for dishes such as stout pork ribs, corned beef, chicken wings and, of course, Irish stew.

Guinness In Malaysia
You can find out more about Guinness in Malaysia on their official website.
---
Share this page: