Top Perak Attractions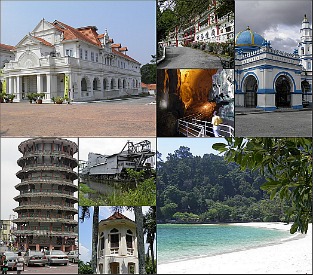 It is not easy to pick the top Perak attractions because there is so much to see and do here. Perak is one of the largest states in Peninsular Malaysia with an area of over 21,000 sq. km. stretching from just north of Selangor all the way to the Thai border.
Its scenery includes the hills of the Titiwangsa range along its Eastern edge, the unusual limestone karst towers outside Ipoh, some spectacular caves, the huge Temenggor Lake, excellent beaches and the popular resort island of Pangkor.
The historic towns of Ipoh (Perak's capital), Taiping and Batu Gajah contain some fine heritage buildings and places of interest while the Royal town of Kuala Kangsar has some interesting palaces, museums and mosques to admire. Perak was one of Malaysia's main tin mining areas and the country's only surviving tin dredge is a piece of industrial heritage that can still be visited.
Add in the Leaning Tower of Teluk Intan, the former colonial hill station of Maxwell Hill, Kellie's Castle and for families, The Lost World of Tambun, and you can see that Perak has much to offer.

View Top Perak Attractions in a larger map
Here are my suggestions for the Top Perak Attractions based on those that I have visited so far. I may add more to the list as I explore further.

1. Ipoh Heritage Walk - Explore Ipoh On Foot 
Take yourself on my Ipoh Heritage Walk, a walking tour of old Ipoh. I have prepared a map and information on over 30 historic buildings and points of interest for you to explore.
Batu Gajah is not nearly as famous as Ipoh but it also has a lot to offer lovers of heritage with many fine and interesting buildings surviving from the colonial era. With this map and information you can do a self-guided tour.


3. The Leaning Tower of Teluk Intan 
The small Perak town of Teluk Intan contains Malaysia's answer to the Leaning Tower of Pisa. It is an old water tower disguised to look like a Chinese pagoda and it has a distinct incline due to subsidence. 


4. Pasir Salak Historical Complex 
This riverside compound has some attractive buildings and a museum commemorating the assassination of JWW Birch, the first British Resident of Perak.
Close to the town of Batu Gajah in Perak there is a surviving tin dredge, a colossal industrial relic from the days when Malaysia was the world's largest tin producer. Read about it on my blog.
Tempurong Cave is one of the largest natural limestone caves in Malaysia stretching over 1.5km. It is a show cave with safe walkways and illuminated to reveal its natural beauty. It is easy to get to.
On the outskirts of Ipoh there are many fascinating cave temples to visit. One of the most famous is Perak Tong Cave Temple. The cave contains a 40 foot high golden Buddha and beautiful murals. Climb 450 steps for a great view of Ipoh.
This is an international standard theme park in a beautiful setting near Ipoh. In addition to slides, pools and other water-based attractions, the park has a mini zoo and hot springs.
This historic half-built palatial home for a Scottish planter is one of the top Perak attractions. You can find out about its sad history and the legends that go with it. 
 This island has some of the best beaches on the west coast of Peninsular Malaysia and busy fishing villages where you can stock up on ikan bilis and other seafood products.
Banding Island is an ideal base for exploring Lake Temenggor and the Royal Belum Rainforest. Definitely one of Malaysia's most beautiful areas.
12. Maxwell Hill (Bukit Larut)
Little has changed at Bukit Larut Resort Hill in the past 100 years. It is still a place for nature, peace and quiet and fresh mountain air.
Gaharu Tea Valley is an agarwood plantation just outside Gopeng, Perak. You can tour the estate and sample their health-giving products.
COMING SOON
Taiping
Kuala Kangsar 
---
Readers' Travel Stories
Which are your favorite places in Perak?
Click on the links below to see some great reviews about other top Perak attractions. They were all written by other visitors to this page. 

Pulau Sembilan Pulau Sembilan is a group of islands off the Perak coast which is gaining popularity among scuba divers and fishermen. 


Pangkor Marina Island Pangkor Marina Island is a new man-made facility to dock your yacht. Read a detailed review of the next door Best Western Marina Island Resort.
---
---
Return from Top Perak Attractions to Home