Top Putrajaya Attractions
Thinking of visiting Putrajaya? If so you might want to know what are the top Putrajaya attractions.
Putrajaya , Malaysia's federal administrative capital, is a modern planned city with construction having started in only the late 1990s and no expense has been spared in creating a world class modern living and working environment.
It might not be the most exciting city on the planet but it sure is pretty. About 38% of the city's 4900 hectare area has been set aside as green areas and indeed its parks are, in my opinion, the top Putrajaya attractions.
A central feature to the city is a man-made 650 hectare lake whose tentacles extend into wetland zones, boating and water sports areas. The lake is designed to cool down the city as well as help with flood control and water purification.
Spanning these stretches of water are some spectacular bridges which are illuminated with changing coloured lights at night.
Add to this a number of grand Government buildings, mosques, palaces and monuments and you have a visually appealing cityscape.
Here is my suggested list of 10 of the top Putrajaya attractions.



View Top Putrajaya Attractions in a larger map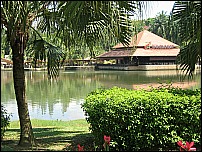 1.
Putrajaya's Parks
Putrajaya has some of the nicest urban parks in the country. In order of preference these are: Putrajaya Botanical Garden (Taman Botani) , a beautifully manicured park showcasing tropical plant and tree specimens.


Wetlands Park (Taman Wetland) is said to be the largest man-made freshwater wetlands in the tropics. Here you can learn how wetlands act as a natural filtration system and see some of the creatures that live in wetlands habitats.


Agriculture Heritage Park (Taman Warisan Pertanian) is where you can see examples of traditional Malaysian crops such as rubber, palm oil, fruit trees, cocoa, herbs and spices.


Taman Wawasan is a tranquil park with bicycle and jogging paths, lotus ponds, splendid views and even a pebble beach.


Rimba Alam Park is a forest park with horse riding paths running along the ridges and hilltops on the eastern edge of Putrajaya.
---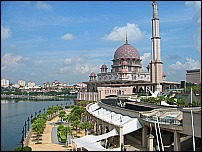 2. Putra Mosque One of Putrajaya's top landmarks, this imposing pink granite mosque is capable of accommodating 15,000 worshippers. Elements of its basement design have similarity to the King Hassan Mosque in Casablanca while the minaret is thought to resemble the Sheikh Omar Mosque in Baghdad.
---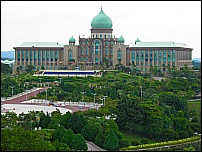 3. Prime Minister's Office Perdana Putra This huge Moghul-style green domed building is the seat of power in Malaysia and contains the offices of the Prime Minister, the Deputy Prime Minister and various other arms of government.
---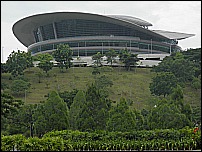 4. Putrajaya International Convention Centre (PICC) This is a massive convention centre with a distinctive architectural design said to be shaped like a royal belt buckle. It is not utilised as much as it could be but is worth visiting if only for the fine views from its hilltop position.
---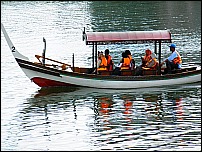 5. Cruise Tasik Putrajaya One of the best ways to see the city's sights is by taking a 45 minute daytime or evening sightseeing cruise on a comfortable air-conditioned 76 seater cruise boat. Gondola-style boat rides are also available.
---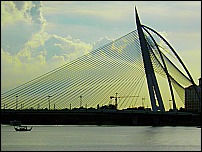 6. Bridges Bridges might seem an unusual choice for top Putrajaya attractions but the city's unique and distinctive bridges are something special. They include the Putra Bridge, the Seri Perdana Bridge, the Seri Bakti Bridge, the Seri Gemilang Bridge and the Seri Wawasan Bridge. Some of them are brightly illuminated at night.
---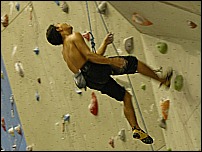 7. Putrajaya Challenge Park This is a park for adventure and thrill-seekers with a giant indoor rock climbing centre, an extensive concrete BMX and skate-board park and cross-country mountain bike trails.
---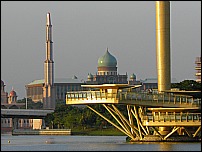 8. Millennium Monument The Millennium Monument features a path way which wraps around the lower levels of the column features a timeline of engraved glass panels which trace the important milestones in Malaysia's history over the centuries up to the year 2000. The annual
Putrajaya International Hot Air Balloon Fiesta is held here and so is Malaysia's premier annual flower and garden festival, Floria Putrajaya.
---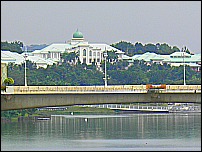 9. Seri Perdana
Seri Perdana is the official residence of the Prime Minister of Malaysia. This sprawling complex with extensive landscaped gardens comprises three main blocks - one for receptions and protocol, one for banquets and one as the residence. It used to be open to the public but no longer.
---
10. Putrajaya Equestrian Centre
This facility is not very well known but has a riding school open to the public at reasonable rates with packages for beginner, intermediate and advanced riders. The centre also has equestrian and polo fields, dressage arena, grandstand and paddock and hosts the occasional racing and show jumping event.
---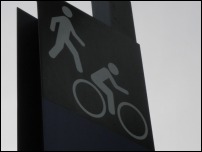 11. Cycling in Putrajaya Cycling in Putrajaya is a pleasure. There are many places to choose from but here is my suggested route map for the best urban bike ride in Malaysia.
---
---
Return from Top Putrajaya Attractions to Home