Top Kelantan Attractions
What are the top Kelantan attractions?
Kelantan's population is overwhelmingly Malay and the state is sometimes known as the 'Cradle of Malay Culture' keeping alive traditions such as kite flying, wayang kulit, songket weaving and batik design.
Kelantan has some of the most romantically named beaches in Malaysia as you can see from the examples below.
Combine these with rustic fishing villages, a sparsely populated interior, challenging mountains, spectacular rivers and mystical caves and you can see that Kelantan has something for everyone.
My Suggested List of Top Kelantan Attractions

View Top Kelantan Attractions in a larger map
Click on the photo or link for further information on each attraction.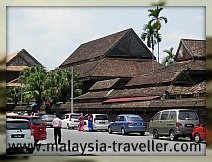 Kota Bharu has a colourful and interesting city centre and the best way to sample it is on foot. Here is a suggested itinerary for a walking tour covering: State Museum, Markets, Grand Palace, Istana Jahar, State Mosque, Kerapu Bank, Istana Batu, Craft Village, Kampung Cina, shophouses and more.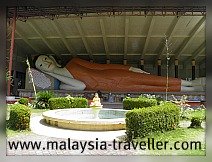 Wat Phothivihan is famous for its Reclining Buddha statue, the largest in Malaysia. The temple's compound has a tranquil atmosphere and there are other temples nearby. Well worth visiting.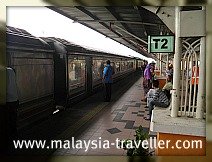 A trip on the Jungle Railway is a great way to experience Kelantan's hilly and forested interior.
Stopping off places might include Dabong for river cruise, exploring Gua Ikan or climbing Gunung Stong. Also Gua Musang (see below).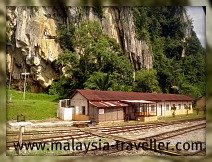 Gua Musang
The highlight here is the cave of Gua Musang where archaeologists have found evidence of human occupation going back 5,000 years. This isolated township was captured and occupied briefly by communist guerrillas during the Malayan Emergency.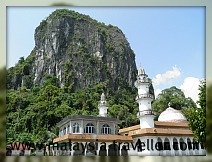 Gunung Reng is a spectacular limestone outcrop containing a bat-infested cave. Curious legends surround the hill's origins. 
Moonlight Beach (Pantai Cahaya Bulan) 
Pantai Cahaya Bulan is probably the closest beach to Kota Bharu but it was quite a tiring trip for my poor old tricycle driver.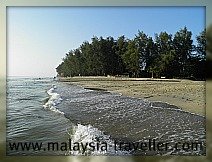 Pantai Irama (Beach Of Melody) 
Coastal erosion has taken its toll on Pantai Irama, once rated as the most beautiful beach on Malaysia's East Coast, but it is still a nice beach.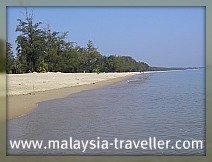 Pantai Bisikan Bayu (Beach of Whispering Breeze) 
Another pleasant beach fringed with casuarinas trees and coconut palms backing onto a lagoon. A new resort hotel has recently opened here.
If you have suggestions for more places that should be included on the list please let me know.
Hotels in Kelantan
Need somewhere to stay in Kelantan? Take a look at Agoda's website for a huge selection of Kelantan hotels to suit all budgets at discounted rates.
Return from Top Kelantan Attractions to Home