Crab Island - Pulau Ketam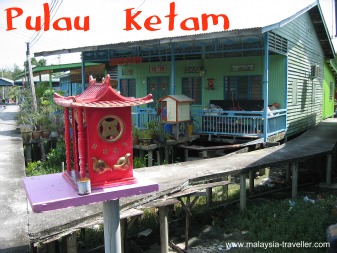 A trip to Crab Island or Pulau Ketam makes an enjoyable family outing from Kuala Lumpur. You can take the KTM Komuter train from KL Sentral to Port Klang, a rail journey of about 1 1/2 hours with the slow train stopping at 18 stations along the way. Costing only RM4.30 for adults and RM2.10 for children (one-way) that is a bargain in itself.
On arrival at Port Klang you just have to cross the street to the Pulau Ketam ferry pier. If you do not want to take the train there is a car park at the jetty.
When I use the word 'ferry' don't imagine that I am talking about an ocean going vessel with multiple decks. This ferry is more like a large torpedo which sits low in the water.

Our ferry was a bit rusty but it got us there quickly (30 minutes) in air conditioned comfort for RM7 each way (RM4 for kids).
The route took us out of Port Klang's busy South Port from where we could catch a glimpse of the Glenn Ports and Cruise Terminal on nearby Pulau Indah. Then the ferry took a short cut through the rivers which dissect the swampy mangrove island of Pulau Klang before reaching Crab Island.
Pulau Ketam itself is low-lying, muddy and fringed with mangroves forest which is an ideal habitat for the crabs and other marine crustaceans which inhabit these waters. The island was first settled by a group of fishermen from Hainan in southern China in the 1870s. Today it is home to a community of about 8000, majority Chinese, who have built mostly wooden homes on stilts over the soft tidal mudflats. Services such as schools, a clinic, police station and electricity have been added over the years.
There are two settlements on the island, Pulau Ketam village and Sungai Lima village. There are no roads or cars and the only way to get around is by boat or walking/cycling on the narrow wooden or concrete boardwalks within the village.
Once you arrive at Crab Island's ferry jetty you can walk through the busy main street of the village which is lined with shops selling dried fish and groceries. Here too is where the island's many seafood restaurants are located.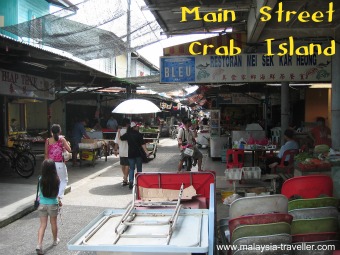 If you have ever been to Lamma Island in Hong Kong you will have an idea of the sights and smells that you can encounter here. The meals are similar too (perhaps slightly better in Lamma?) with typical dishes containing crab, prawns and fish. Oyster omelette seems to be a popular dish here.
After your meal you can wander round the village. It is possible to rent bicycles (RM5 per day) but children and inexperienced cyclists should be careful on the narrow paths. You cannot go too far anyway - the pathways peter out at the edges of the village.
There are no beaches on this island but there are plenty of sampans and fishing boats which rest on mud when the tide goes out.
There are two Chinese temples in the village and a couple of hotels if miss the last ferry home.
It is best to avoid public and school holidays if you can as this place can get busy. On normal weekdays you probably will not need to join a long queue for the ferries and the service in the restaurants will be better too.
As for souvenirs, most locals would buy dried seafood. We managed to find a couple of good Pulau Ketam T-shirts.
Crab Island is definitely worth a visit!
---
---
Return from Pulau Ketam to Beaches and Islands 

Return to Home