Lost World of Tambun
Last week I took my family to the Lost World of Tambun, a water theme park near Ipoh, Perak.
It was Merdeka (Independence) Day and, being a public holiday, it seemed that several thousand other families had the same idea as the car park was nearly full by the time we arrived.
The queue for tickets was rather slow moving but once inside the spacious park, queuing times for the most popular attractions were not that bad (5 minutes maximum waiting time).
The Lost World of Tambun is run by the Sunway Group, the same people who operate Sunway Lagoon, and it shows the same high standards and professional look. The landscaping at Lost World is beautiful but what sets it apart from other theme parks in Malaysia is its superb setting. The park sits at the foot of some of those stunningly steep limestone hills which are so characteristic of the Ipoh area. With greenery all around it is easy to forget that the park is located in a suburb of busy Ipoh city.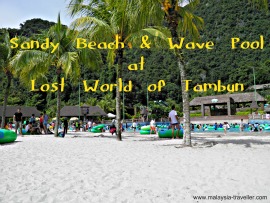 Lost World is mostly a water theme park and there are the usual attractions such as a lazy river (Adventure River), a wave pool (Malaysia's biggest, although it seemed to be waveless on the day of our visit) with an extensive sandy beach, and a couple of giant water slides (the sort where you have to sit on inflatable rubber rings) called Cliff Racer and Tube Raiders. There is also a pool play area for younger kids - Kids Explorabay.
Aside from these attractions there are some land based amusement rides such as the Giddy galleon, Storm Rider, Dragon Flight and a carousel.
The latest attraction is Tin Valley where young visitors can learn about and experience "Dulang Washing"(Tin Ore Panning)and other aspects of Ipoh's historic tin mining heritage.
A unique feature of Lost World of Tambun is the hot spring and there are a number of pools, jacuzzis and a steam cave where you can enjoy the health-giving benefits of natural hot mineral spring water. The water temperature in most of these pools exceeds 40 degrees centigrade which we found rather too hot seeing that it was a sweltering sunny day. The hot springs are open for evening sessions from 6pm - 11pm when the air temperature cools down a bit so perhaps that is the best time to appreciate the hot springs. Attached to the hot springs are massage facilities (Crystal Spa) where you can complete the full spa experience.
We also enjoyed the Petting Zoo, a well laid out area at the foot of the mountain where children and adults can see and interact with various animal and bird species such as racoons, rabbits, hamsters, parrots, goats, deer, snakes, lizards, peacocks, tortoises and more.
The developers have taken care to preserve the natural setting and vegetation as far as possible when constructing the zoo area and they have done a good job.
Lost World also includes Tiger Valley, with Siberian tigers, and an area for Team Building activities.
Overall we had a pleasant day and my daughter ranks Lost World of Tambun as her third favourite theme park in Malaysia (after Sunway Lagoon and Legoland). If we go again however I would probably try to avoid going on a public holiday.
Practical Matters
Opening Hours
Monday - Friday: 11am - 6pm.
Saturday, Sunday, Malaysian School Holidays and Public Holidays: 10am - 6pm.
Closed every Tuesday except during Malaysian School Holidays and Public Holidays.
Lost World Hot Springs & Spa By Night: 6pm - 11pm.
Crystal Spa Treatment: 3pm - 10pm.
2014 Ticket Prices
Admission includes a wrist band entitling you to unlimited rides:
Adults: RM 43.20
Children (below 12): RM 36.90
Seniors (age 55+): RM 36.90
Kids below 90cm: Free
Ticket inclusive of:
Access to Lost World Amusement Park, Lost World Water Park, Lost World Tiger Valley, Lost World Petting Zoo, Lost World Tin Valley, Lost World Hot Springs & Spa and Lost World Lupe's Adventure.
Lost World Hot Springs & Spa By Night: RM 18 (adults and children)
Group Packages available.
Parking RM1
Tube Rental RM 12 plus RM 10 refundable deposit.
Contact Telephone: 05 542 8888
Getting There
View
Lost World of Tambun, Ipoh
in a larger map
Considering it is called Lost World it is quite easy to find.
The park is located about 200 km north of Kuala Lumpur and takes at least 2 hours to reach there by car.
Exit the North-South Expressway at junction number 138 and follow the road signs to Lost World of Tambun.
Accommodation
It is possible to drive there and back from KL in a day but it is quite tiring. You might wish to consider staying somewhere in Ipoh instead.
The Lost World Hotel is located right next to the park and room rates include park entry tickets, breakfast and WiFi.
A more luxurious option is the award winning Banjaran Hot Springs Resort, also next door to the park, but it is more of an up-market health spa targeted at adults. Children below the age of 9 are not permitted to stay.
There are plenty of other hotel choices in nearby Ipoh.
Take a look at Agoda's website for discounted rates at these and other hotels near Lost World.
---
Return from Lost World of Tambun to Malaysia with Kids 

Return to Home