KL Tower
Menara Kuala Lumpur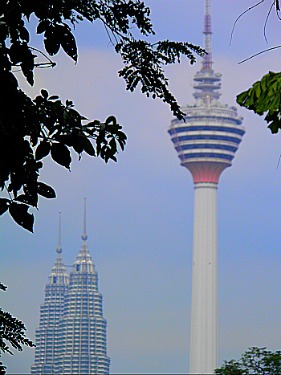 KL Tower is the 6th tallest telecommunications tower in the world with a height of 421m.
Its Observation Deck is at a less impressive 276m, being situated on the lowest of the six levels in the head of the tower, but as the tower stands on top of a small hill, it still gives excellent views of Kuala Lumpur and the surrounding regions.
KL Tower's views are more spectacular than those from the Skybridge at Petronas Twin Towers but recently Petronas has opened a new viewing deck over 80 floors up so it may have taken over the number one spot for views.
The Tower was opened to the public in 1996, nearly 5 years after construction started. It offers the same sort of visitor experience as similar towers in Seoul and Auckland which I have also visited.
The management of the KL version (it is owned by Telecom Malaysia) has done its best to maximise the Tower's tourism potential (and revenue!) by creating some add-on attractions. These are:
XD Theatre
This is the latest new attraction - a 6D motion simulated thrill ride for ages 6 and above.
Forest in the City
The Tower is located within Bukit Nanas Forest Reserve, a micro-sized rain forest in the heart of the city. It was actually gazetted as a forest reserve in 1906 meaning that it has plenty of old and large trees along its well laid-out nature trails. It is a fun place to explore for adults and kids and there is an outdoor exercise area. Entrance is free and you can even make use of a complimentary guide if you want (not that you could get seriously lost but the guide can point out animal and plant life that you might otherwise overlook.)
1 Malaysia Cultural Village
On my three visits to the KL Tower I have not yet tried the Cultural Village. It seems very touristy and a bit artificial to recreate a traditional Malaysian kampung on the roof of a multi-storey car park. But it has been done well and if you are on a short trip to KL and want to absorb as much culture as possible then give it a go.
KL Animal Zone
My kids did make me go here. It is a small enclosure with an albino python and other snakes, parrots, monkeys, rabbits, spiders and so on. The entrance fee was not much (and can be included with the Tower entrance ticket depending on which ticket package you opt for).
Apart from these attractions there are also F1 Simulators and pony rides. I also noticed a flying fox/aerial ropeway on my last visit.
KL Tower International BASE Jump
For the really adventurous, the Tower is the venue for a base-jump event held every year or so (base-jumping is where people leap off the tops of tall buildings with a parachute). If this crazy activity is your cup of tea you can refer to the organizers' website for details.
International Night Towerthon Challenge
This is another annual extreme event held at the Tower where thousands of contestants run up 2058 steps to the top of the tower for prize money (RM100,000 in 2011). The last male event held in May 2012 was won by a Kenyan (no surprises there!) in just 13 minutes 42 seconds.
Revolving Restaurant
One floor above the Observation Deck is a Revolving Restaurant. I took my wife and some visitors there for dinner one evening. It was not cheap but the ticket included a visit to the Observation Deck. The meal, a buffet, was OK but nothing special. While the night view is impressive (especially the view of the spectacular Petronas Twin Towers) I think there is more to see in the daytime. Also bear in mind that if it is cloudy or raining (which happens often) there will be nothing to see at night.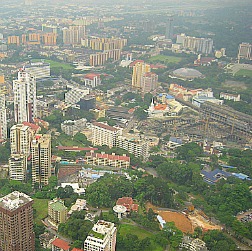 2013 Ticket Prices & Packages
With the addition of the new XD Theatre attraction, management have taken the opportunity to increase prices for 2013 and are now looking quite expensive.
There are a number of packages available (being run by a phone company they like to have complicated packages!):
Basic Package - Adult RM57 Child RM37 (MyKad Adult RM39/Child RM29)
includes
- Observation Deck
- XD Theatre OR
- F1 Simulator OR
- Pony Ride OR
- KL Animal Zone
All Park Package - Adult RM107 Child RM77 (MyKad Adult RM79/Child RM59)
includes all the above attractions.
Guided Tour Package - Adult RM127 Child RM97 (MyKad Adult RM99/Child RM79)
same as the All Park Package PLUS
- 1 Tour Guide
Family Package -  RM138 (MyKad  RM88)
- For 2 adults and 2 children.
There are also special rates for school trips and students.
Packages for weddings, corporate events etc. can be arranged.
Refer to their official website for details.
How to Get To Menara Kuala Lumpur
Address:
Menara Kuala Lumpur
No. 2 Jalan Punchak Off Jalan P.Ramlee
50250 Kuala Lumpur
Malaysia
Tel: +603 2020 5444
Fax: +603 2098 7001
The location is marked on the map on my Top KL Attractions page.
---
---
Return from KL Tower to Top KL Attractions 

Return from KL Tower to Home Page