Puteri Harbour Theme Park
Sanrio Hello Kitty Town
The Little Big Club
Lat's Place
(L)Exterior of Puteri Harbour Theme Park with Traders Hotel Behind            (R) The Little Big Town Characters

Just a few minutes away from Legoland Malaysia is another newly opened kids' attraction, Puteri Harbour Theme Park, located in Nusajaya, Johor.
This is a four storey indoor theme park comprising Sanrio Hello Kitty Town, The Little Big Club and a themed restaurant attraction called Lat's Place.
It is really aimed for younger kids, say below age 8, but I took my 11 year old daughter there recently (December 2012) since we were in the vicinity visiting Legoland. Here is our review.
Overview
Puteri Harbour Theme Park is in a modern block which resembles a shopping mall or an office complex. A sign outside says 'Little Red Cube'. It is located in the fast developing Nusajaya district adjoining a new marina and faces Singapore on the opposite bank of the Straits of Johor.
Part of this complex was still being completed and no doubt more shops and restaurants will open up in the coming months. 
The Ground Floor of the complex is made up of a large merchandise store, the Red Bow Café and the ticketing counters. The shop sells Hello Kitty, Pingu, Barney, Bob the Builder, Angelina Ballerina and Thomas the Tank Engine products.
Escalators lead up the First Floor where Sanrio Hello Kitty Town is located. The escalators continue up to the Second Floor and Third Floors where the Little Big Club is located.
     (L)Hello Kitty in the Merchandise Store                            (R)Entrance to Hello Kitty Town
Sanrio Hello Kitty Town
The main attraction here is Black Wonder, an interactive experience where children can help to find Hello Kitty and Dear Daniel who have been kidnapped. Kitty's House is a Hello Kitty's home complete with bedroom, living room, kitchen and bathroom. There is also an indoor playground, Tea Cups ride, and a stage where Hello Kitty appears in shows and parades. 
Kids can have their photos taken with Hello Kitty and get to meet other Sanrio characters. Fun for young kids and big Hello Kitty fans.
(L)Barney mini-show at The Little Big Club                  (R) Angelina Ballerina at her Dance Studio
The Little Big Club
The Second Floor is given over to Pingu, Barney, Bob the Builder and Angelina Ballerina themed activities while the Third Floor (also part of Little Big Club) is devoted to Thomas the Tank Engine and Friends.
Attractions on the 2nd floor include Pingu's Igloo (which does not contain much apart from Street Basket Ball and Basket Bowling machines), Angelina's Dance Studio (where kids can have their photos taken with Angelina Ballerina), Barney's Playhouse and a Bob the Builder Play Structure. There is a stage for mini-shows and chances to meet and greet the Little Big Club characters.
On the Thomas-themed 3rd floor there are a few tame rides such as the Windmill Ride, Colin Crane Drop Ride, Harold Helicopter ride, Bertie the Bus ride, dodgems and a Thomas train ride. Not at all exciting for my 11 year old daughter but toddlers and young'uns seemed to be enjoying it.
(L)Bumping Buffers Steamies & Diesels Ride                                       (R) Bertie the Bus Ride
Ticket Prices
I felt the admission charges were a bit on the high side:
Sanrio Hello Kitty Town RM 65 (RM 50 for MyKad holders). Adults and children are the same price (free for under 3s).
The Little Big Club     RM 65 (RM 50 for MyKad).
If you want to see both attractions you can buy the 2 Park Pass for RM 110 (RM85 for MyKad).
(L)Windmill Ride                                                    (R) Harold's Helitours Ride
Opening Hours
10am - 6pm. Closed on Tuesdays except during public and school holidays.
Lat's Place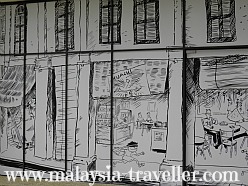 Inspired by the comic world of Lat, Malaysia's most famous cartoonist, Lat's Place is a themed restaurant based on the adventures of Lat the Kampung Boy. This restaurant promises to be a unique and interesting experience and is due to open in January 2013.
How to Get to Puteri Harbour Theme Park
Coming from the direction of Kuala Lumpur, exit the North-South Expressway at interchange 253. Take the E3 Expressway towards Nusajaya. Leave the E3 at Exit 312 and follow the signs to Puteri Harbour. There is plenty of free parking next to the Theme Park.
Accommodation
A brand new Traders Hotel is nearing completion right next to the Theme Park and will be the most convenient place to stay. Johor Bahru, about 20 minutes drive away, has a wide range of hotels. You can check Agoda's website here for room rates and availability.
Nearby
For other top Johor attractions click here.
---
Return from Puteri Harbour Theme Park to Malaysia with Kids
Return from Puteri Harbour Theme Park to Home