Selangor Beaches
Bagan Lalang, Batu Laut and Morib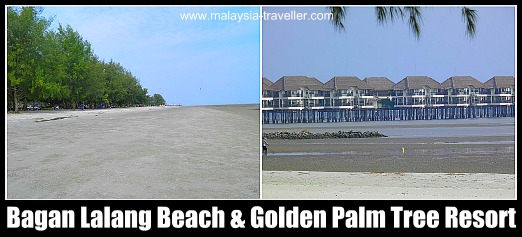 Golden Palm Tree Resort is now renamed AVANI Sepang Goldcoast Resort
Bagan Lalang Beach
Bagan Lalang Beach is probably the best beach along the southwest coastline of Selangor state and one of the closest beaches to Kuala Lumpur, being located only about 25 minutes drive from Kuala Lumpur International Airport and the Sepang International Circuit (F1 circuit).
Having said it is the best beach however does not mean that it has perfect white sand and crystal clear blue water. Being located on the shores of the Straits of Malacca, one of the world's busiest shipping lanes, means that it is not free from rubbish. Furthermore this whole stretch of coastline is lined with mangrove trees and the many rivers which flow into the sea here bring vegetation and natural sediments which get washed up on the beach.
As a result the beaches tend to have a muddy appearance and the sea is usually cloudy. Still this is all natural and I found Bagan Lalang Beach to be quite clean during my visit. It was covered in tiny crabs. The tide was out and anyone wishing to swim would have had to walk a long way over squelchy sand to reach the sea, sending thousands of tiny crabs scurrying for cover.
It was a weekday and almost deserted. One guy was enjoying sand yachting (if that is the right word - his wheeled vehicle was being dragged over the sand powered by a kite).
This place must get very crowded at weekends judging by the size of the huge carpark which has been built set back from the beach. There are a lot of restaurants lining the beach together with a few stalls, shops, toilets etc.
AVANI Sepang Goldcoast Resort
(formerly Golden Palm Tree Resort & Spa)

Since renamed AVANI Sepang Goldcoast Resort
In a prime position in the centre of Bagan Lalang beach is the impressive AVANI Sepang Goldcoast Resort. This is a fairly new hotel comprising 392 luxurious sea villas which are built on stilts extending out almost 1 km into the sea in the shape of a palm tree made up of 8 fronds and a central trunk. This is Malaysia's answer to Dubai's famous Palm Islands, though on a much smaller scale.
The architectural style is supposed to be Polynesian/Maldivian with some Malaysian elements thrown in. I had a quick look round the lobby. It looked very smart. Perhaps one day if I am feeling rich I will take my family there.
I believe this hotel is part of a wider property development called Sepang Gold Coast but it was not clear to me what stage of development the rest of the project is at.
Interested in staying in the Golden Palm Tree Resort (now renamed the AVANI Sepang Goldcoast Resort? Check out Agoda's website for discounted room rates. 
Batu Laut Beach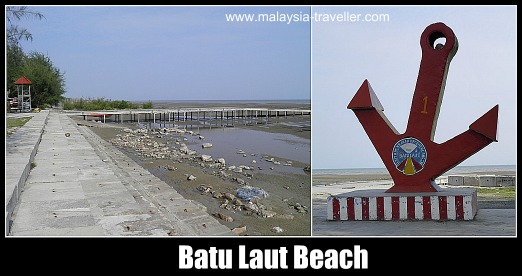 My map showed another beach about 20 kilometres away (in a north west direction) called Batu Laut Beach. I went off to investigate.
To be honest there is not a lot there - just a small village next to the sea with a kind of market, a few boats and a slipway for launching them. Again at low tide the sea was far out revealing soft muddy sand, mangrove stumps and lots of crabs.
Morib Beach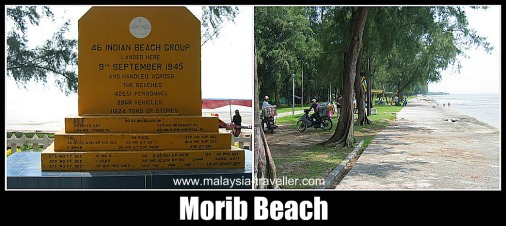 Continuing westwards along this coast another 10km is Morib Beach. The state of the sand and sea water is similar to the other two beaches. Here there is a golf course, a new outdoor food court facility and the recently opened Hotel Impian Morib.
There is also a plinth here commemorating the landing of the Allied forces' 46 Indian Beach Group on 9th September 1945. This force was landed to help Britain re-establish control over Malaya following the surrender of the Japanese at the end of World War II.
You can find the location of these beaches on my interactive map on the main Beaches & Islands page Near Morib is the pretty village of Kampung Endah which some years ago won the title of the Most Beautiful Village in Malaysia. It is possible to stay at the village in Homestay accommodation. You can find details on Tourism Selangor's official website. 

Return from Bagan Lalang to Beaches & Islands 

Return from Bagan Lalang to Home