Paya Indah Wetlands
Paya Indah Wetlands is growing on me. When I first visited this park (located about 15 minutes drive south-west of Putrajaya - Cyberjaya) about a year ago I wrote in my blog that it was a bit of an odd place and that more work was needed to turn it into a first class facility.
Having just gone back there I am pleased to report that there has been significant improvement.

Paya Indah (which means 'beautiful swamp') is a man-made wetlands area created in 1998 on land which had been heavily degraded by tin mining and sand dredging activities.
The excavations left by the mining works have been converted into lakes which are now home to fish, lotus plants and water lilies and some more exotic species, namely crocodiles and hippos.
New trees have been planted which, combined with the surviving earlier forest, are now attracting a wide variety of bird species, insects and animals.
The Department of Wildlife & National Parks has done a good job over the past year in regenerating this eco-tourism park's facilities which had earlier seemed to be unutilised.
They have also recently built a lookout tower providing a 360 degree view of the whole area. It is still very green but I noted that dredging activity is going on just outside the park boundary and that patches of trees have been cleared for agricultural or development purposes near the park.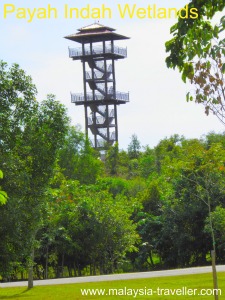 Here is a list of ACTIVITIES which are now available at Paya Indah Wetlands.
Bird Watching
The park is open for bird watching from 7:30am to 7pm. There is no charge (admission to Paya Indah is free) but bring your own binoculars. The types of birds which have been spotted here are:
- purple swamp hen
- white breasted water hen
- olive backed sunbird
- brown shrike
- red wattled lapwing
- Swinhoe's snipe
- yellow vented bulbul
- peacock
Jungle Trekking
The Typha Trail is available for trekking. Much of the woodland in the recreational zone has been recently planted so do not expect the same sort of lush jungle that you encounter in other parks in Malaysia.
Cycling
I was pleased to see on my last visit that bicycles are available again. They look in good condition and can be rented for RM5 for 2 hours. Tricycles are provided for children under 6 years old at RM3 for 2 hours.
This is a spread out (and flat) park so a bicycle is a good way of covering the distances. Take a hat and water though because there are a lot of open exposed spaces.
Hippo Feeding
Two hippos, originally from Botswana, live in the Hippo Pond enclosure. The best time to see them is feeding time (10am - 10:30am). They spend much of the rest of the day semi-submerged in the lake to prevent their surprisingly sensitive skin from getting sunburnt.
Crocodile Feeding
After seeing the hippos eat their breakfast you should make your way to the nearby crocodile lake in time for the crocs' feeding session (11am - 11:30am on Saturdays and Sundays only. Don't the poor crocs eat on weekdays?)
The massive fierce-looking crocodiles were apparently transported to Paya Indah from Langkawi which puts me off exploring the wilds of Langkawi a little bit.
Fishing
Fishing is possible on Typha Lake from 8am - 6:30pm everyday except Fridays. The cost is RM10 per rod. No live bait is allowed.
Fishermen tell me that Marble Goby and Giant Snakehead are typical of the type of fish which inhabit this pool.
Kayaking
Kayak rental costs RM7 per hour. An instructor can be hired for groups of between 10 to 20 people at RM180 for 3 hours (prior reservation is needed).
The hours for kayaking are 9am - 12pm, 3pm - 6pm.
Accommodation at Paya Indah Wetlands
On my first visit to Paya Indah the accommodation was not in use but now it is available for those wishing to stay overnight.
At the smart accommodation reception (above) you can check in for one of the park's 29 Chalets which sleep two people (double bed) and are air conditioned.
And very nice they look too and good value at the very reasonable price of RM120 per night.
Dormitories and a camp site are also available at RM 9 per person/site/night.
For more information and bookings contact
Paya Indah Wetlands
Jabatan Perhilitan
Km 4, Jalan Dengkil - Banting
43800 Dengkil
Selangor Darul Ehsan
Malaysia
Tel: +603-87687616
Fax: +603-87688424
Email: piw@wildlife.gov.my
Official Website: Click Here
HOW TO GET THERE
Paya Indah Wetlands is quite well sign-posted. Coming from Putrajaya head towards Dengkil. At the traffic lights in Dengkil turn right towards Banting. After a couple of kilometres turn right when see a sign for Paya Indah. Follow the road to the end. There is plenty of parking. 
---
---
Return from Paya Indah Wetlands to National Parks 

Return to Home