Batu Caves
The magnificent Batu Caves are one of the top tourist attractions in Malaysia, partly because they are located only 13km from downtown Kuala Lumpur and easy to get to.
Countless tour operators run half-day trips to Batu Caves but you do not really need to waste USD50 on an organized tour unless you like being rushed around the caves so that the guides can have extra time to drag you to handicraft shops and earn some extra commission.
I took myself there the other day and spent just USD1 on transport and a further USD3 for a perfectly acceptable curry lunch. You can do the same but first let me explain what attractions you can expect at Batu Caves.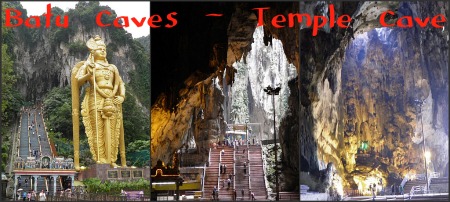 There are 3 main attractions at Batu Caves which is a limestone hill riddled with caves. The main Batu Cave is known as the Temple Cave or Cathedral Cave and is accessed by a steep flight of 272 steps. The steps are thronged with troupes of greedy macaques who will harass you for food if you are carrying any (better not to feed them).
The top of the stairs brings you into a massive cave with a high vaulted ceiling. The cave serves as a Hindu Temple devoted to Lord Muragan whose 42 meter high gold statue stands guard outside. During the Thaipusam festival (which falls in January or February each year) hundreds of thousands of believers will throng to the cave, including a number who impale themselves with skewers and hooks as acts of penitence and devotion. Unless you are particularly fond of huge crowds or wish to take part in the festival, you might want to avoid visiting Batu Caves at this time.
There is no entry fee for visiting the Temple Cave although you may leave a donation in one of the collection boxes if you wish.
Half way up the flight of stairs is the entrance to the second main attraction, the Dark Cave. This is more of an adventure cave with educational and scientific interest.
It is not always open (on 2 of my 5 visits to Batu Caves it has been closed) and depends on the availability of a guide without whom you are not allowed to enter.
The Dark Cave is said to be home to the rarest spider in the world, the Trapdoor Spider, and an ancient animal community dating back over 100 million years (which during my visit seemed only to comprise bats and cockroaches!).
I took my kids on the Educational Tour lasting 45 minutes which costs RM35 per adult and RM28 per child. Helmets and a headlamp were provided and the amusing guide pointed out interesting rock formations and bat populations and let us know when we were surrounded by a sea of cockroaches. We stuck to the pathways and avoided shining our lights directly at the bats.
Braver people can take the Adventure Tour which lasts a few hours and involves getting wet, scaling rock faces and squeezing through narrow pot holes. This tour costs RM 80 - 100 depending on the size of your group and you need to bring suitable clothing. Advance booking is required for the Adventure Tour (the sign outside said call 012-2873797 for more details).
Part of the Dark Cave complex is off-limits and preserved as a conservation site.
If you cannot manage to climb the 272 steps and if the Dark Cave sounds too creepy you can instead visit the 3rd main attraction, the Cave Villa which lies at the foot of the limestone hill.
You have to pay an entrance fee (RM15 for foreigners, RM7 for Malaysian residents) and cross a crooked bridge over a carp pool. Here there are two more show caves illuminated with coloured lights and containing brightly painted statues and paintings of Indian poets and characters from Hindu mythology. You can read the plaques containing pearls of oriental wisdom while strolling around the humid caves. One of the caves also contains glass display tanks full of snakes and other reptiles.
In the courtyard outside the caves you can see a statue of a five legged bull (with an extra leg growing out of its back) which used to roam freely in the temple grounds until its death from old age.

On my recent visit I took the KTM Komuter train from KL Sentral all the way to the recently opened Batu Caves Komuter station which is located a few steps from the entrance to the attractions. The fare was only RM2 each way which makes it the cheapest and easiest way to travel. The train has ladies-only coaches for the comfort and safety of female passengers. If you take your own car there is ample parking once you have negotiated the confusing road layout and reached the entrance to the cave complex.
There are a few restaurants (vegetarian only being a Hindu Temple) where you can get a tasty Indian curry of 4 veggie dishes, rice and poppadums served on a banana leaf, together with a fresh coconut juice for around RM9.

For a good choice of hotels with discount prices, visit Place to stay in Selangor for more information.


---
---
Return from Batu Caves to Caving In Malaysia

Return from Batu Caves to Home