GM Klang Wholesale City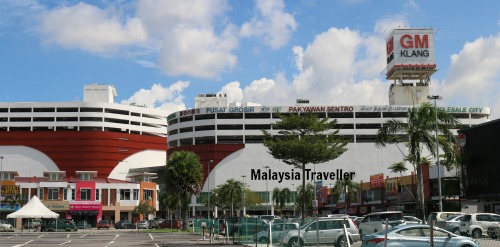 GM Klang brands itself as the most comprehensive one-stop wholesale city in South East Asia. It is a massive wholesale shopping mall and business centre located in Bandar Botanic district of Klang town. It currently has space for about 2,500 shops, although not fully occupied at present.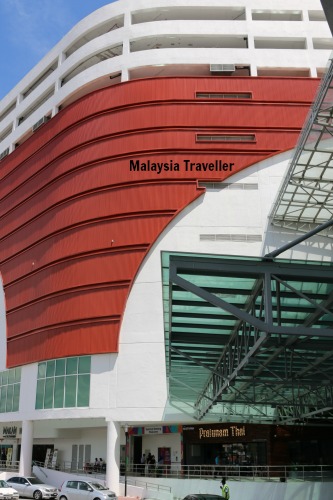 There are two high-rise blocks, Block A, which has 6 storeys of shops and opened in 2012, and Block B which opened in late 2016. There is also a single storey block, Block C which includes Malaysia's largest wedding accessory wholesaler. There are plans to redevelop Block C into a high rise block in the future, together with other satellite facilities, depending on the growth in demand.
The shops operate as wholesale outlets but I noticed that many will sell individual items to retail customers so it is a good place for bargain hunters, whether in the retail trade or just private shoppers.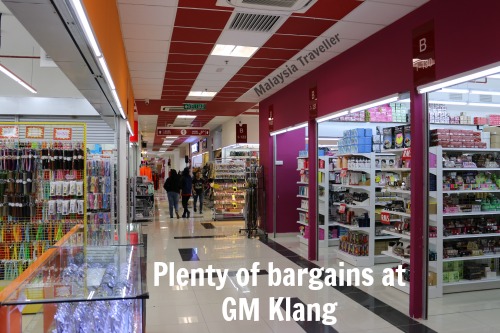 Product Range
The range of items is vast, covering most categories including:
Accessories

Bags
Footwear
Jewellery (costume and real)
Eyewear
Watches
Beauty

Skin Products
Cosmetics
Haircare Products
Healthcare Products
Manicure Products
Perfume    
Children   
Clothing
Baby Equipment
Educational Materials
Toys
Dried & Packed Food

Fashion for Men & Women

Big Size
Maternity
Muslimin/Muslimah
Textiles
Undergarments
Unisex
T shirts
Hats
Gift & Packaging

Corporate Gifts
Display Material
Handicraft
Party Packs
Premium Gifts
Products Packaging
Wedding Gifts
Home & Office

Bedding
Doors & Gates
Hardware
Home Decoration
Home Improvement
Household Products
Kitchenware
Lighting
Office Supplies
Towels
Wallpaper
IT Gadgets

CCTV
Computer/Laptop
Hand phone Accessories
Mobile Phone
Small Electrical Products
Sports & Outdoor

Car Accessories
Sports & Outdoor
Wedding

Services
Services include Convenience Stores, Courier, Money Changer and Hairdressing Salon.

Food & Beverage
There is a good range of restaurants with over 30 outlets selling fast food, Malaysian, Indonesian, Japanese, Indian and western dishes, mamak stalls, kopitiam, tea, juices, donuts, bakery and so on.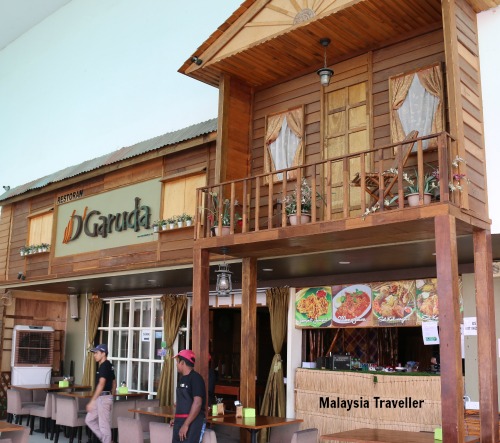 One of the many food outlets.
Opening Hours
Open every day except for the 1st and 2nd days of both Chinese New Year and Hari Raya Aidilfitri public holidays.
Operating hours are 10am - 7pm (Block A & B wholesale shops).

Block C shops and F&B outlets are open from 10am - 10pm.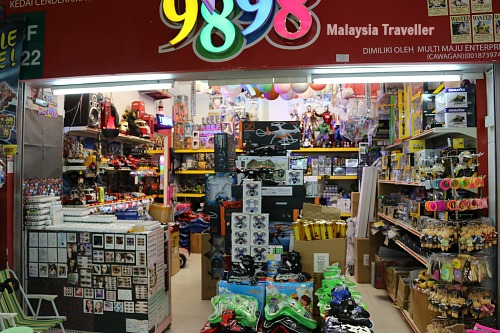 Hot selling items in this shop appear to be drones, superhero figurines and Korean coloured contact lenses.
How to Get to GM Klang
Driving from Kuala Lumpur, access could not be easier. Take the E5 Lebuhraya Shah Alam (KESAS highway) all the way to Klang and exit at Junction 502A. You will straight away see the big GM sign on top of the mall. There is plenty of parking in the multi-storey car-park above the mall. Cost is RM2 flat charge.
I have marked the exact location on this map:
GPS Co-ordinates:
2°59'27.8"N 101°27'04.2"E
2.991060, 101.451170
Address:
GM Klang Wholesale City, Jalan Kasuarina 1, Bandar Botanic Capital, 41200 Klang, Selangor, Malaysia

Tel: +603-33251788

Fax: +603-33251808
Email: info@gmklang.com
---
Share this page: