Putrajaya Balloon Fiesta 2013
The Putrajaya Balloon Fiesta, or more accurately, the 5th Putrajaya International Hot Air Balloon Fiesta 2013 takes place from 28th - 31st March 2013.
I went to last year's event and it was a fun day out for the whole family.
Over 250,000 visitors are anticipated for this year's event.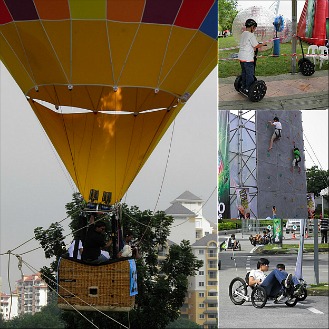 What to Expect
- Many colourful hot air balloons in creative shapes and designs will take to the skies over Putrajaya throughout the 4 day event. On previous years there have been balloons shaped like Darth Vader, Felix the Cat, Garfield and other amazing designs. The balloons will be flying daily at 7:30am and again at 5:30pm, weather permitting.
- Some 18 International balloonists from a dozen countries are expected to attend including Belgium, Australia, Germany, Switzerland, Netherlands, USA, Malaysia, Spain, UK, Poland, Japan and Vietnam.
- The public can take tethered hot air balloon rides at RM 20 per person. A tethered ride means that the hot air balloon remains anchored to the ground and does not fly around freely but you do get the experience of seeing the burners ignite and you are lifted into the air. Tickets are limited to 300 per session on a first-come, first-served basis so to avoid disappointment it is best to be at the ticket counter when it opens at 7am (for the morning session) or 5pm (for the evening session). Minimum height for passengers is 4 feet.
-  Five minute Helicopter joy rides will take people for a spin over Putrajaya from RM 130 per person. This is an excellent way to gain a bird's eye view of the city's top attractions. Maximum 4 passengers per ride. The rides will take place from 9am - 12pm and from 1pm - 4pm on the 30th and the 31st March (Saturday and Sunday only). It is possible to book online in advance - see the organizer's official website here.
- A new attraction this year will be the Para Motor Pilots who will demonstrate their powered paragliding skills at 9am and 4:30pm daily.
- There is an Extreme Zone with Paintball, Waterball, Wall Climbing, Mini Orb, Bumper Orb, Zorbing, Segway and KMX bikes. KMX bikes will cost RM10 for 10 minutes.
- Kids Area with archery, carousel, bouncy castle.
- To serenade the audience, KL Jazz artists will perform daily from 3-4pm. On Friday and Sunday there will be an extra performance from 9-10pm and on Saturday from 9-11pm.
- Food and beverages.
When
From Thursday 28th March until Sunday 31st March 2013.
On Saturday 30th March there is a Night Glow (where hot air balloons fly at night with their colours illuminated by their burners) at 9pm followed by a firework display.
Being an outdoor event, the scheduling is subject to weather conditions.
Where
Putrajaya Precinct 2 next to the Millennium Monument (Monumen Alaf Baru).
Plenty of free parking is available. NADA PUTRA buses will ferry visitors to the event site from Putrajaya Sentral station.
---
---
Return from Putrajaya Balloon Fiesta to Top Putrajaya Attractions 

Return from Putrajaya Balloon Fiesta to Home