Museums in Melaka
Why are there so many museums in Melaka? I think there are two reasons really. First of all the city (and state) of Melaka, or Malacca, is brimming with history, heritage and culture so they have a lot of great buildings, antiquities and exhibits to show off and display. Secondly Melaka, together with Georgetown Penang, has been a UNESCO World Heritage site since 2008. In order to stay on UNESCO's list, Melaka has a duty to preserve and maintain its unique historical and cultural heritage. It is not permitted to demolish or significantly modify the appearance of its many historic buildings so the city has to find a use for these valuable buildings. Converting them into museums is a good way of ensuring the heritage buildings are occupied and looked after.
It does seem to me though that they may be running short of ideas on what to put in these museums as you will see from some of those appearing in my directory below.
I have been to all the museums in Melaka listed here (except where stated) so I am able to give you my personal reviews and opinions on each. There are others which will be added later.
Click on the Museum's name or image for further details.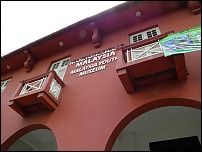 Malaysia Youth Museum & Melaka Art Gallery
The Youth Museum is a strange collection of mainly sports trophies and photos. The Art Gallery upstairs is better and from the balcony you can get a great view of the Stadthuys.


The Stadthuys
This famous Dutch-built construction contains ceramics salvaged from wrecks, ethnic costumes, dioramas of Malay houses and rice fields, musical instruments and more.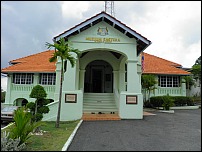 Museum of Literature
Nice old building but the contents are of limited interest to the casual tourist. Concentrates on the life and works of Malacca-born Munshi Abdullah who has been referred to as the father of modern Malay literature.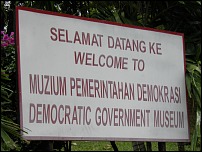 Democratic Government Museum
I have to admit I did not enter this museum which is housed in a modern building near St. Paul's Church. The name of the museum did not arouse much interest and I would have had to take my shoes off again. Maybe next time.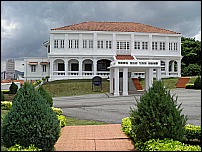 Governor's House
This grand building served as the Governor's Residence through the Dutch and British colonial period and after independence until 1996. Quite interesting inside.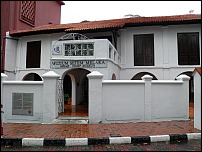 Melaka Stamps Museum
Another Dutch-era building, this cosy house is now home to a postage stamp museum (mostly Malacca state stamps). OK for a stamp collector like me but I'm not sure my kids would rate it highly.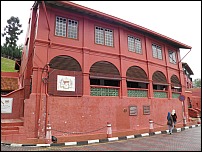 Malaysia Architectural Museum
Contains scale models and information on various architectural styles and famous buildings in Malaysia. Good for a short visit.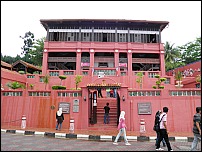 Islamic Museum
Looks a lovely building from the outside. I did not enter as I was a wearing shorts and was a bit sweaty. I would not wish anyone to feel I was lacking in respect.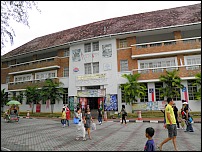 The Malay & Islamic World Museum
This 1930s building was called Bastion House and belonged to the Dunlop rubber company. It would look at home in London. Again I did not go inside.


Malacca Sultanate Palace
This is a replica of the 15th century Sultan of Malacca's palace. Great looking building with interesting contents and a beautiful garden. One of the best museums in Melaka. Must visit.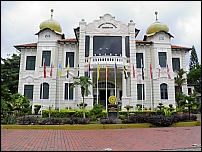 Proclamation of Independence Memorial
Once the Malacca Club, this building is where Malaysia's (actually Malaya's) independence was proclaimed.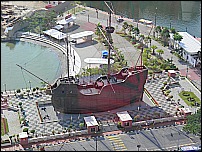 Maritime Museum
This riverside museum's highlight is a replica of Flor De La Mar, a treasure-laden Portuguese galleon which sank off the coast of Melaka. One of the most popular museums in Melaka.


St. Paul's Hill
There has been a church on this historical site for nearly 500 years. Portuguese, Dutch and British colonists left their mark here. A statue of St. Francis Xavier is located here.


Baba & Nyonya Heritage Museum
Features the history and lifestyle of the Baba-Nyonas, a unique blending of Chinese and Malay races over the centuries to create a distinct culture.


---
Return from Museums in Melaka to Home